Shipper | Market updates 1 min. read
Mexico is poised for GDP and investment growth from nearshoring
Analyst Morgan Stanley notes that the world economy is changing and nearshoring is part of the process of this decentralization into a multipolar world. It notes that the U.S. is likely to look to allies that are geographically close and politically aligned as trade tensions, supply-chain difficulties and geopolitical concerns push the U.S. further from China.
As U.S. companies increasingly look to Mexico to bolster their supply chains, it's likely that Mexico's GDP growth as investment surges, providing new opportunities for companies and investors alike.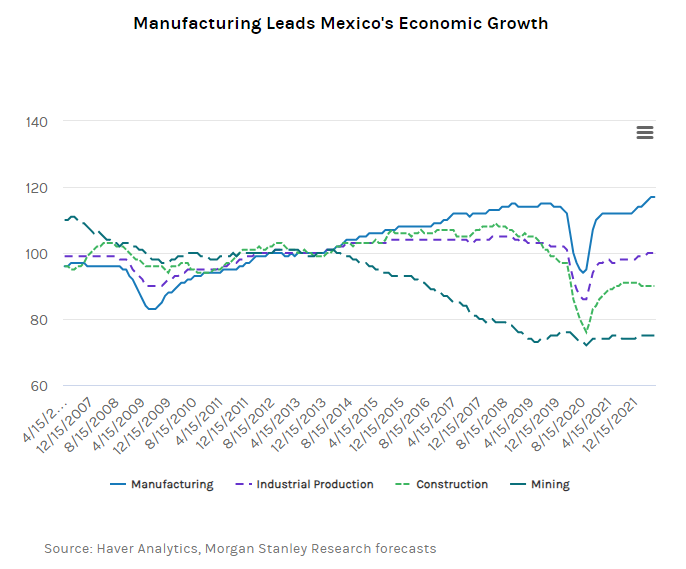 Manufacturing exports currently represent about 40% of Mexico's $1.3 trillion economy. Meanwhile, new investment driven by nearshoring could reach about $46 billion in the next five years, helping boost Mexico's annual GDP growth to around 3% in 2025 to 2027, from an estimated 1.9% As Mexico's GDP and manufacturing grow, so too should corporate profits, especially in the financials, industrials and consumer sectors.
In fact, during periods of above-average GDP growth, Mexican equities have tended to outperform in terms of valuation, profitability and operating performance.
Additionally, stocks in industrial real estate, transportation and logistics, metals and cement could benefit from the realignment of supply chains.
Prologis Research has similar information looking specifically at real estate. A recent article notes that demand for Mexican logistics real estate is heating up as companies are nearshoring to Mexico. For example, every $1B invested in Mexican auto factories generates 5 – 10 million square feet of local logistics demand.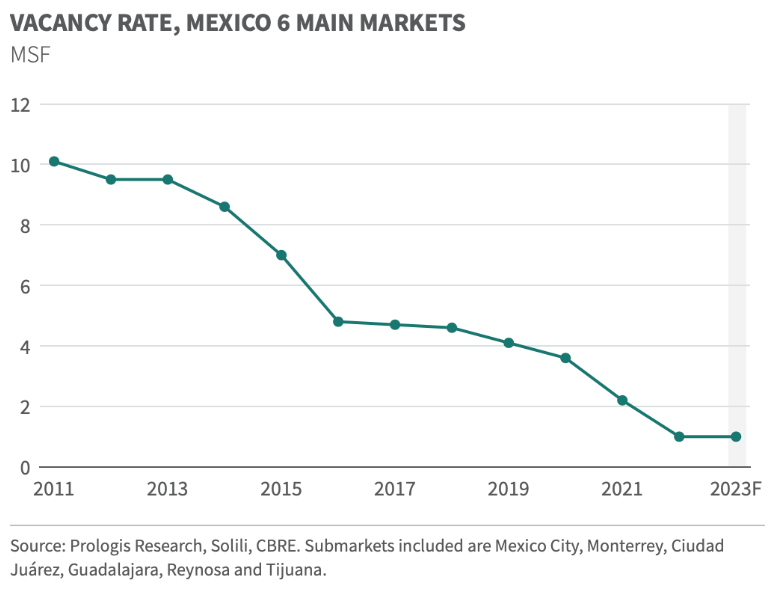 Demand for industrial space doubled in 2022 versus 2019 levels, leading to a sharp decline in vacancy to approximately 1%, and a rise in rents of 16% in 2022 in the six main markets of Mexico City, Monterrey, Cuidad Juarez, Guadalajara, Reynosa and Tijuana.
About the Mexico transportation market update
Schneider publishes this regular transportation market update to keep you informed of freight market conditions, supply and demand influencers, and disruptions that may impact your supply chain. 
This report is developed by leveraging data and analytics from multiple transportation industry resources.
This report focuses on the Mexico Transportation Market. View the full Transportation Market Update here.
Weather advisory page -- For the latest information on hurricane season and the impacts on supply chains, please see our weather-advisory page.
Drive your business forward
Sign up to receive our industry leading newsletter with case studies and insights you can put to use for your business.